Jean-Baptiste Berger : saxophone & compositions
Lorenzo Di Maio: guitare
Igor Gehenot : piano
Tommaso Montagnani : basse
Jérôme Klein : batterie 
« Jamais titre n'a été mieux choisi pour tenter de définir la musique du saxophoniste Jean Baptiste Berger et de son quintet européen »
« Voilà une authentique déclaration d'amour au jazz à laquelle on ne restera pas insensible. Convaincant, on vous disait! »
Nouveau quintet européen (France, Belgique, Italie et Luxembourg), Persuasive propose un répertoire original qui nous emporte au gré de mélodies enivrantes composées par le saxophoniste Jean-Baptiste Berger.
Créées à Césaré – CNCM – dans le cadre d'une résidence produite par le Reims Sunnyside Festival, ces compositions trouvent leurs influences dans le jazz contemporain tout comme dans la pop, le rock, la musique traditionnelle et classique.
Persuasive se veut cosmopolite, tant dans le choix de ses musiciens que dans ses références, montrant la possibilité d'être natif d'un lieu et de toucher à l'universalité, sans renier son identité.
Après de nombreuses formations comme Cadillac Palace salué par la critique et récompensé par un Prix du Public au Tremplin Jazz d'Avignon en 2014, ce projet connaît ses prémices lors de JazzPlaysEurope, tremplin européen de jeunes musiciens de jazz pour lequel Jean-Baptiste Berger fut sélectionné en 2012 pour représenter la France.
Au gré de ses rencontres, il s'est entouré de jeunes talents de la scène européenne afin de partager sa musique, à la fois simple et accessible tout en étant harmoniquement et rythmiquement complexe.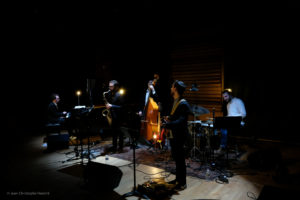 Jean-Baptiste Berger : saxophone & compositions
Lorenzo Di Maio: guitar
Igor Gehenot : piano
Tommaso Montagnani : bass
Jérôme Klein : drums 
New European quintet (France, Belgium, Italy and Luxembourg), Persuasive offers an original repertoire that takes us to the sound of hauntingly melodies composed by saxophonist Jean-Baptiste Berger.
Created at Césaré – CNCM – as part of a residency produced by the Reims Sunnyside Festival, these compositions find their influences in contemporary jazz as well as in pop, rock, traditional and classical music.
   Persuasive wants to be cosmopolitan, both in the choice of its musicians and its references, showing the possibility of being native from a place and touching universality, without denying its identity.
After many bands like Cadillac Palace, greeted by the critics and rewarded by a Public Prize at the Tremplin Jazz d'Avignon in 2014, this project has its beginnings at JazzPlaysEurope, European springboard for young jazz musicians for which Jean-Baptiste Berger was selected in 2012 to represent France.
Throughout his meetings, he has surrounded himself with young talents from the european scene to share his music both simple and accessible while being harmonious and rhythmically complex.